Venue & Hospitality
Welcome to the Official Attendee Housing Site for the International Summit on Mental Disorders and Illness scheduled on October 21 & 22, 2019 at Geneva, Switzerland. Accommodations will be provided at conference venue.

We often set up conferences in Geneva, Switzerland and we have collaborations with so many hoteliers there. Our Venue & Logistics team is in communication with best properties (Hotels) and we will update the final venue information soon.

Note: For Package registrants of the Conference will be offered single (default option) or double rooms in the conference hotel itself.

For security purposes, the conference has policy for issuing official Visa Support Letters as follows:
• Visa Support Letters will be issued only after you have successfully registered and paid for your conference.
• Visa Support Letters can only be issued for the person accepted to attend the conference.
• Visa Support Letters will be issued via email in PDF format. Please contact the Conference Manager at [email protected] to arrange for a Visa Support Letter.
• You must include your name as appears on your passport, your passport Scan Copy and abstract acceptance letter for presenters.

For further query, Contact us:
E: [email protected]
E: [email protected]
Tel & what's App: +44 203-936-3178

Conference Dates: Conference Date: October 21 & 22, 2019


Hotel Services & Amenities
Audio/Visual Equipment Rental.
Business Center.
Business Phone Service.
Complimentary Printing Service.
Express Mail.
Fax.
Meeting Rooms.
Office Rental.
Photo Copying Service.
Secretarial Service.
Telex.
Typewriter.
Video Conference.
Video Messaging.
Video Phone.
ATM.
Baggage Storage.
About City
Swiss facts and figures
Surrounding countries: Germany, France, Italy, Austria and Liechtenstein
Confederation founded: 1291
Surface area: 41,285 km² (as compared to France, which has a surface area of 640,000 km2)
Cantons: 26
Capital city: Bern
Currency: Swiss Franc (CHF)
Population: 8 million
Average percentage of foreigners: 23.3 %
Cities with the highest percentages of foreigners: Geneva 39.4%; Basel Stadt 33.1%
Average population density: 198.9/km²
Highest population density: Basel Stadt 5033.9/km²; Geneva 1873.5/km²; Zurich 838.3/km²
74% of the Swiss population lives in urban areas and half of this number lives in the 5 largest cities
GDP 2012: CHF 592 Billion
Unemployment rate: 3.2 % (2013)
Average life expectancy: women: 84; men: 80
Some general informations about Geneva:
Geneva is the second largest city in Switzerland behind Zurich and the most international city in Europe with over 40% of its population coming from outside Switzerland. The main industries are banking, inter- and non-governmental administration, technology, and tourism. Geneva prides itself as being one of the most beautiful and cultured cities in the world, combining the splendours of nature with a rich palette of historic and architectural offerings. As well, the city is a major gateway to the Alps for outdoor enthusiasts year round.
History of Geneva
Geneva has a rich history that dates back more than 4000 years and continues to influence the development of the city today. Evidence of Geneva's past is preserved throughout the city in its many museums, monuments and architectural treasures.
Hotels and hostels
Geneva has over 130 hotels ranging from luxury-five star resorts to dorm-style hostels. Most hotels are in easy walking distance of major attractions, shopping and of course food.
Location
Geneva is the capital of the Swiss Canton of Geneva located in the south-westernmost corner of Switzerland. The city is situated along the banks of Europe's largest lake, Lake Geneva (Lac Léman), at the mouth of the Rhone River and is bordered by the Jura Mountains to the west and the French Alps in the east. The city is easily reached within 2 hours by plane from most major cities in Europe and is a hub of Europe's highway network. High-speed train connections to Paris and Milan as well as fast trains to Spain and Germany provide additional access.
Language
Switzerland has three official languages: French, German and Italian. French is the predominant language spoken in Geneva, but most citizens speak at least one other language. English is spoken by about a quarter of the local population and majority of foreigners. Of course, you can hear just about every other language in Geneva if you listen hard enough, from Albanian to Zimbabwean. When dealing with locals it is recommended that you start off in French, even if it is only a greeting, before transitioning to English.
Currency
The currency in Switzerland is the Swiss Franc (CHF, SFr.). Most of the restaurants, bars, cafes and clubs accept euro, but expect to pay a premium rate, usually exchange rate 1:1.
Credit cards are widely accepted; even entrance to a nightclub can be paid by credit card. ATMs are widely available throughout the city, dispensing notes up to 1000 CHF.
Money exchange
There are many ways to change money in Geneva or directly at the Airport, find out from our list which exchange offices are the best.
Exchange Rates
1 CHF is around 0.93 Eur, and for 1 Euro you will get around 1.08 Swiss Francs. Check the current exchange rate on google.
1 CHF ≈ 0.99 USD, 1 CHF ≈ 1.30 CAD, 1 CHF ≈ 0.78 GBP, 1CHF ≈ 3.30 BRL, 1CHF ≈ 66.6 INR.
Climate
Due to the tempering effects of the lake and surrounding mountains, Geneva is pleasant almost year round. September and October are the rainiest months. January and February are the coldest but rarely drop below freezing. However, perceived temperature in winter is colder than actual, because of cold moist air coming from the lake. Summers are long, with clear sunny sky, with relatively low humidity and cool breezes from the lake. The Mont Blanc is visible from Geneva about half of the days out of the year. Have a look on our weather page for more information
Internet access
All hotels and most of the restaurants, cafés and public places have a free WiFi access.
Time Zone: GMT/UTC +1
Telephone area code: 0041 or +41
Population: 201,000 (2015)
Important Telephone Numbers:
Police Emergency Number - 117
Ambulance / Medical Emergency - 144
Fire Department - 118
Religious buildings:
St Peter's Cathedral and Chapel of the Maccabees, Our Lady Church, Russian Church , St. Germain Church, Temple of the Fusterie, Temple of the Audience
Archeological sites:
Foundation Baur and Museum of the arts d'Extrême-Orient, Parc et campagne de la Grange and Library (neolithic shore settlement/Roman villa), Bronze Age shore settlement of Plonjon, Temple de la Madeleine archeological site, Temple Saint-Gervais archeological site, Old City with Celtic, Roman and medieval villages.
Museums, theaters, and other cultural sites:
Music Conservatory at Place Neuve 5, Conservatory and Botanical Gardens, Cantonal Fund for Contemporary Art, Rousseau Island and Statue, Voltaire Institute and Museum with Library and Archives, Mallet House and International Museum of Art Reform, Ariana Museum , Museum of Art and History , Museum of Modern and Contemporary Art, Museum of Ethnography, Museum of the International Red Cross , Rath Museum, Museum of Natural History, Plainpalais Communal Hall and Pitoëff Theater , Villa Bartholoni and Museum of History and Science.
International organizations:
International Labour Organization (BIT), International Committee of the Red Cross, United Nations High Commissioner for Refugees (UNHCR), World Meteorological Organization, World Trade Organization, International Telecommunication Union, World Alliance of Young Men's Christian Association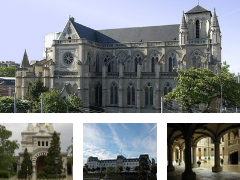 The best restaurants
Cafe du Centre
Lively town-centre meeting spot for locals in Place du Molard, where fish is a speciality (22 311 8586; cafeducentre.ch).
Les Armures Restaurant
Swiss specialities, including raclette and fondue, are served in the beamed Salle des Artistes or outside on the shady terrace of this hotel-restaurant in the heart of the old town (22 310 9172; hotel-les-armures.ch).
Vertig'O
Michelin-starred restaurant by the lake, on the ground floor of Hotel de la Paix, overseen by chef, Jérôme Manifacier. French-style dishes (22 909 6073; hoteldelapaix.ch).
The inside track
On arrival at your hotel, pick up a Geneva transport card which are free to guests and can be used on all public transport in the city.
Explore the city and surroundings by bike. Bikes are available to hire from the Genève Roule Association (geneveroule.ch). For recommended cycling routes see veloland.ch.
Take to the water on a yellow taxi-boat. The Mouettes Genevoises (Geneva Gulls) are free to use with a transport card and, depending on the line, depart every ten or 30 minutes from city centre stops. See mouettesgenevoises.ch.
Make the most of good value, set-price lunch menus. Top city restaurants offer excellent two- or three-course options from around £32 or more simple plats du jour from £11.